This is the Title page of my free online book.
Build An Heirloom Rocking Horse
For Your Child or Grandchild
by John Michael Linck Toymaker . . . . . . . .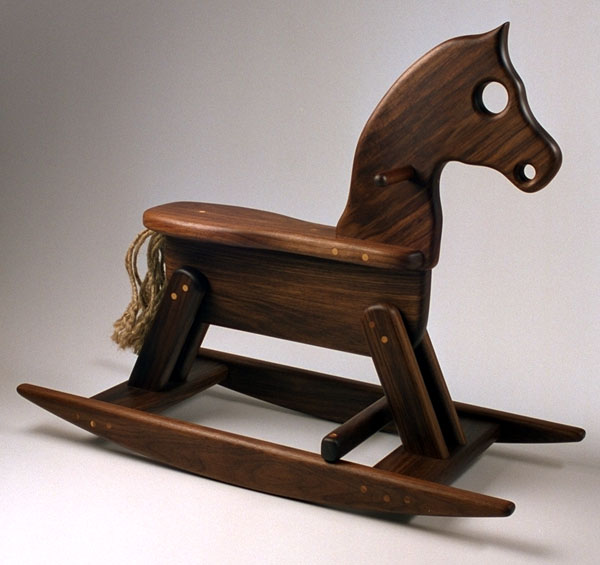 Do you want to build your own wooden rocking horse?
Building a children's rocking horse is a rewarding project in many ways, but making this horse is not a project for a beginning woodworker. While I include dozens of pictures and step by step instructions in my free online book it is not a basic woodworking "How–To". I do not discuss the difference between a band saw and a table saw, a try square and a carpenter's square, or a belt sander and orbital sander. I do discuss many techniques I have discovered and developed in my lifelong love of woodworking. Most of the ideas in this book I use daily in my work as a professional toymaker. The techniques described are designed to achieve quality work with minimum effort. If you are new to woodworking look for a more basic book about tools and their use. When you have a foundation of knowledge and experience read my book and build yourself a fine heirloom.

When your Rocking Horse is complete please give instructions to your young children riders. The 10 month old rider needs help in staying on and the older rider needs cautioned to avoid being bucked off. As with any ride-on toy a child can fall off or ride so energetically that the toy can overturn. Use caution and vigilance. Happy Trails to you ......

When your steed is complete I would love to see a picture of your work or even better a picture of your horse and rider.

Thanks, john
John Michael Linck - Toymaker - 608 Tall Pines Way, Madison, Wisconsin 53593
Click here to begin reading and
seeing dozens of step by step photographs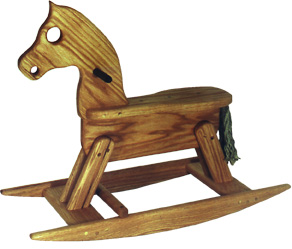 I offer full size plans for this horse.
I also offer plans for my train set.
John Michael Linck - Toymaker
608 Tall Pines Way - Madison, Wisconsin 53593
Web site catalog at - www.woodentoy.com
Telephone 608-231-2808
email - john@woodentoy.com